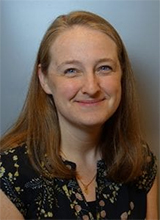 Rebecca Hendrickson, MD, PhD
Rebecca Hendrickson MD, PhD completed her undergraduate and psychiatry training at the University of Washington in Seattle, medical school and graduate school at Washington University in St. Louis, and her research fellowship at the VA Puget Sound in Seattle. In her graduate training, she worked with Dr. Tim Holy studying the accessory olfactory (pheromone) system. During her fellowship training, she worked with Drs. Murray Raskind and Elaine Peskind studying the pathophysiology of PTSD and common comorbid conditions. Currently, in addition to her research, she sees patients in the PTSD Outpatient Clinic (POC) at the Seattle VA, and teaches in the UW psychiatry residency program.
The Hendrickson research group explores underlying biological mechanisms related to the development and maintenance of posttraumatic stress disorder (PTSD) and related conditions, including mild traumatic brain injury (mTBI). Through the design and implementation of translational clinical studies, they also apply this work directly to the pursuit of new treatment options for people who have experienced a traumatic stress.
Department Affiliations
Edit Profile