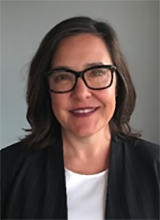 Mollie Forrester, MSW, LICSW
Mollie received her MSW at the UW School of Social Work and joined the Department in June 2019. Prior to that, she was part of the Social Work Department at Harborview Medical Center for 19 years, starting on inpatient psychiatry and then as an Associate Director of Social Work for the second half of her career.
As the Director of Patient and Family Experience, Mollie works directly with patients and families who are either currently receiving mental health care at one of our UW Medicine hospitals or clinics or may be looking to do so. She helps patients and families connect with appropriate mental health providers and offers information and resources as well as specialized navigation assistance. Mollie also manages our team of Mental Health Navigators who are part of our provider and patient consultation lines, including PAL for Moms, the Psychiatry Consultation Line and the Mental Health CareConnect programs. When she is not at work, Mollie enjoys live music, travel, gardening and spending time with her husband, Dave, and their dog, Louis.
Edit Profile