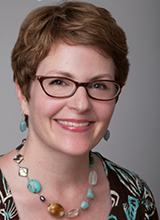 Michelle earned both her BA in Business Administration and Master of Public Administration degrees from the University of Washington. She's been with the University of Washington for over 20 years and joined the Department in March 2023. She's looking forward to learning about the vast array of education, research, and clinical programs in the Department and working with the staff, faculty, and leadership teams to improve mental health in our community.
Michelle began her UW career in 2000 as a Policy Development Analyst in the Office of Planning and Budgeting and after a decade in various central administration leadership roles moved into the Administrator position in the Department of Medicine/Division of General Internal Medicine.  Prior to the UW, she was with Group Health Cooperative of Puget Sound where she held several roles including Financial Analyst and Fee Schedule Manager.
In her free time, Michelle enjoys spending time with her geologist daughter, traveling, reading, baking, and attending local music events (including singing with a hyper local women's a cappella group, the Beaconettes).
Edit Profile