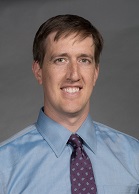 Personal Statement
I have pursued a career at the intersection of mental health and primary care, training in both family medicine and addiction psychiatry.  I currently practice in various integrated care settings as a consulting psychiatrist and in the outpatient adult psychiatry clinic.  I am the co-medical director for the University of Washington Psychiatry and Addiction Case Conference (UW PACC), a weekly online learning collaborative to help community providers across the state improve their psychiatric and addiction clinical skills.  My area of interest is focused on improving addiction and psychiatric treatment to primary care settings.  I also spend a significant amount of time training both family medicine and psychiatry trainees and fellows on integrated treatments for substance use disorders.
Education
Rush University Medical education, 2006
West Suburban Medical Center Residency, Family Medicine
University of Washington - School of Medicine Residency, Psychiatry
University of Washington - School of Medicine Fellowship, Addiction Psychiatry

Department Affiliations
Substance use treatment integration in primary care settings; substance use in underserved populations.​
Edit Profile