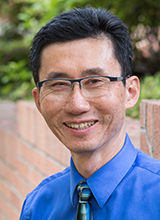 Personal Statement
I am a consultation-liaison psychiatrist and health services researcher in the Department of Psychiatry and Behavioral Sciences and Adjunct Professor in the Departments of Rehabilitation Medicine and Epidemiology. I am also Medical Director of the Department of Psychosocial Oncology at the Seattle Cancer Care Alliance and an Affiliate Investigator in the Clinical Research Division at Fred Hutchinson Cancer Research Center. My research interests are in psychiatric epidemiology, health services research, psychiatric oncology, and neuropsychiatry. In my clinical practice, I use a comprehensive, multifaceted approach that may include medications or counseling to help patients achieve their goals. My primary interest is helping people who are coping with medical illness. I am particularly interested in developing better approaches to delivering psychiatric care to these populations.
Education
Stanford University, BS, Electrical Engineering, 1985
Northwestern University Medical School, MD, 1989
Columbus Hospital (Chicago), Transitional Internship, 1990
University of Washington Affil. Hosps. Residency, Psychiatry, 1993
University of Washington Affil. Hosps. Fellowship, Psychiatry Research, 1995
University of Washington School of Public Health, MPH, Epidemiology, 1996

Department Affiliations
Centers/Programs
Training Programs
Other Affiliations
Affiliate Investigator, Fred Hutchinson Cancer Research Center
Investigator, UW Traumatic Brain Injury Model System
Teaching Philosophy
​The privilege of sharing my clinical and research knowledge with the next generation of clinicians and researchers is an important component of my own ongoing professional growth and academic mission at the University of Washington. I have learned that by respectfully partnering with students and trainees to help them achieve their educational and professional goals, they learn to work in a collegial framework that will serve them in their future professional careers. I believe that one of the most important challenges as a mentor is teaching scientific rigor while simultaneously stimulating individual creativity.
Edit Profile