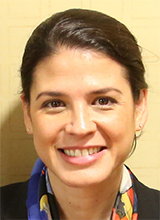 Personal Statement
My research aims to improve the public health impact of evidence-based behavioral health interventions for addressing comorbidities common among ethnoculturally diverse and underserved victims of trauma, including PTSD, depression, suicidal ideation, and risky substance use. I study the integration of behavioral interventions into general medical settings, with an emphasis on provider-centered training methods to support the delivery of patient-centered interventions. My current interest is in harnessing technologic innovations in machine learning and artificial intelligence, along with user-centered design, to enhance suicide prevention training scalability and sustainability.
Homepage
Education
Mental Health Services Research Postdoctoral Fellowship, UW at Harborview Medical Center, 2012-2015
Clinical Psychology Internship, VA Puget Sound HCS - American Lake Division, 2011-2012
PhD, Clinical & Community Psychology, Georgia State University, 2012
MA, Clinical & Community Psychology, Georgia State University, 2007
BA, Psychology, University of California at Berkeley, 2000

Department Affiliations
Centers/Programs
Training Programs
Teaching Philosophy
My philosophy prioritizes the use of inclusive, evidence-based teaching practices and responsiveness to trainee diversity, developmental stages and learning styles.
Edit Profile