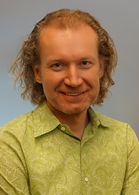 Personal Statement
My lab is interested in genetic causes of complex neurodevelopmental and neurodegenerative disorders. Our main foci are Autism and Alzheimer' disorder. We are interested in Schizophrenia as well. Current consensus is that both rare and common variants contribute to the disorders we are studying. There is substantial evidence for importance of rare variants in sporadic Autism and Schizophrenia and Mendelian forms of early onset Alzheimer's are well described. In our lab we are focusing on rare variants that play a role in familial as opposed to sporadic Autism and Schizophrenia and in late onset Alzheimer's disease.
In order to account for high levels of heterogeneity that is present we focus on extended families to identify candidate genes. For such families we use exome sequencing and bioinformatics analysis to identify private variants that are likely to be causal in each family. Next, we use custom capture and next generation sequencing to large case control samples for the association with the disease. Lastly for genes that show association in case-control sample, we aim to establish wide range of collaborations with experts in the field and provide additional evidence for association using functional studies. Our lab is somewhat unique as we are developing our own expertise in all phases of gene discovery. This includes but is not limited to choosing the families and phenotypes to study, next generation probe design and targeted sequencing, sequence analysis and bioinformatic interpretation of the results and statistical analysis. Our comprehensive approach allows us to trouble shoot in all levels of data production and utilize multiple analytical approaches using still evolving genomic technologies.
Our short-term goal is to identify additional novel genes that harbor rare variants of large effect that result in severe neurodevelopmental and neurodegenerative disorders. Our long-term goal is to add this novel information to genetic testing and to understand how the genes we have identified contribute to phenotypes. The ultimate goal is to contribute to development of novel preventive and therapeutic approaches that are needed to implement the precision medicine.
Education
Cellular Biology , San Antonio, Texas, 1994-1997
Mental Illnes Research , Seattle, Washington, 2002-2005
Internship , Chicago, Illinois, 1997-1998
Psychiatry , Seattle, Washington, 1998-2001
Child Psychiatry , Seattle, Washington, 2001-2003
MD , Zagreb, Croatia, 1988-1993

Department Affiliations
Centers/Programs
Training Programs
Other Affiliations
Autism Center – Seattle Children's Hospital
Training Clinic
Edit Profile