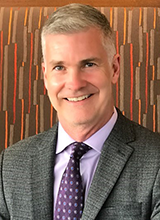 I teach in the Integrated Care Training Program and serve as the Director of the Behavioral Health Support Specialist (BHSS) Clinical Training Program.  My responsibilities include oversight of curriculum development, practicum guidelines, development of community partnerships and reimbursement pathways.
Behavioral Health Support Specialist Clinical Training Program
I am working with a talented project team to develop competencies and curriculum to prepare a bachelor level Behavioral Health Support Specialist (BHSS).  A BHSS will deliver brief, culturally responsive, evidence-based interventions for depression and anxiety under supervision in a team-based setting.  The BHSS will use a measurement based, stepped care approach to ensure patients are receiving the right level of care at the right dose.  Our project goal is to train fifty BHSSs by 2026 to initially work in primary care or whole person behavioral health with adults.  Eventually, our team believes the BHSS curriculum and workplace role can expand to include all age groups and numerous healthcare environments.
During my time working as a primary care behavioral health consultant, I frequently met with senior patients representing diverse backgrounds who had never spoken with a behavioral health provider for various reasons.  One reason I found unacceptable was lack of access to services.  I believe our behavioral health community can do a better job of increasing access to care for those who need it.  We can also do a better job of diversifying the workforce by creating educational pathways that encourage people to provide services in the communities where they live and thrive.  I believe the bachelor level Behavioral Health Support Specialist role is one solution of many to improving access to care and expanding the available workforce.
Scholarship
My current scholarship focuses on best practices in teaching and training bachelor level intervention specialists for integrated primary care and behavioral health settings.
Between 2014-2017, I served as principal investigator for a philanthropic grant from Robert Craves to expand access to school counseling services at Bailey Gatzert Elementary School in the Yesler Terrace neighborhood of Seattle. In addition, I engaged in community-based research with Village Spirit Center for Community Change and Healing located in the Central District to produce a mental health needs assessment for residents who had experienced homelessness prior to obtaining secure housing.
Previous peer reviewed publications focused on best practices in counselor preparation and ethical dilemmas in counselor practice.
Certification and Licensure
I am a Licensed Mental Health Counselor (LMHC) in the State of Washington and a Licensed Professional Counselor (LPC) in Colorado.  Additionally, I am a National Certified Counselor (NCC), and an Approved Clinical Supervisor (ACS) through the National Board of Certified Counselors and the Center for Credentialing and Education.
Career Roles
Regional Director of Behavioral Health and Primary Care Behavioral Health Consultant for Iora Primary Care with One Medical (2018-2021)
Department Chair of Leadership and Professional Studies at Seattle University (2014-2017)
Associate Professor of Clinical Mental Health and School Counseling at Seattle University (2010-2019)
Associate Professor of Clinical Mental Health and School Counseling at Xavier University in Ohio (2001-2010)
Past President of the Ohio Counseling Association (2006-2009)
Assistant Clinical Director for Talbert House Inc. (1998-2001)
*Private Practice Therapist and Consultant (1997-2010)
Adult Therapist for Clermont Counseling Center in Milford, Ohio (1994-1997)
Crisis Intervention Specialist for Talbert House Inc. (1990-1993)
Adult Therapist for Care Unit Chemical Dependency Hospital in Ohio (1988-1990)
*I owned a private practice in the Greater Cincinnati Area for twelve years providing behavioral medicine consultation in an integrated pain management practice, clinical consultation to behavioral health organizations, and training and education on ethical and professional issues for mental health providers.  Additionally, I provided individual, couple and family counseling in a group psychology practice with a special focus on serving the LGBTQI+ community and persons with trauma history.
Education
Primary Care Behavioral Health Certificate, UMASS Chan Medical School, 2019
Doctor of Education, University of Cincinnati, Cincinnati, Ohio, 2002
Master of Arts, Athenaeum of Ohio, Cincinnati, Ohio, 1991
Bachelor of Arts, University of Dayton, Dayton, Ohio, 1986

Department Affiliations
Scholarly Expertise
Ethical dilemmas in professional practice
Clinical Expertise
Primary Care Behavioral Health for Seniors
Geriatric Counseling
Solution Focused Counseling
Teaching Philosophy
I worked as a full-time clinician in addictions, mental health and private practice settings for ten years before I decided to pursue a doctorate.  This professional experience forever influenced the manner in which I conceptualize courses, develop learning objectives, and evaluate the impact of higher education on student self-efficacy in clinical settings.  The interplay between the acquisition of knowledge and the practical application of that knowledge in the workplace is critical to preparing students for real world settings.   In my teaching I emphasize the link between research, practice and training.  Courses, including assignments, need to adapt to emerging knowledge so that the students of today are prepared to improve upon the work of their predecessors.  For me, teaching is an investment in a better future.
Edit Profile