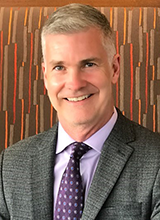 As Director of the Behavioral Health Support Specialist (BHSS) Clinical Training Program, I oversee curriculum development, practicum site supervisor mentoring and legislative advocacy for the BHSS initiative. My recent role as Regional Director of Behavioral Health for a national healthcare company, and my past experience as a graduate faculty member and administrator in Counselor Education have prepared me to dive into this innovative project with tremendous hope to increase access to mental health intervention for seniors and underserved adult populations. My current scholarship focuses on best practices in teaching and training bachelor level clinicians for primary care and other non-mental health settings. Previous peer reviewed publications focused on best practices in counselor preparation and ethical dilemmas in counselor practice. I hold a Doctor of Education degree from the University of Cincinnati specializing in counselor education and behavioral medicine. In 2019, I completed a certification program at UMASS Medical School in primary care behavioral health. I am licensed as a mental health counselor (LMHC) in the State of Washington and hold the National Certified Counselor (NCC) credential.
Education
Doctor of Education, University of Cincinnati, Cincinnati, Ohio, 2002
Master of Arts, Athenaeum of Ohio, Cincinnati, Ohio, 1991
Bachelor of Arts, University of Dayton, Dayton, Ohio, 1986

Department Affiliations
Scholarly Expertise
Ethical dilemmas in professional practice
Clinical Expertise
Primary Care Behavioral Health for Seniors
Geriatric Counseling
Solution Focused Counseling
Teaching Philosophy
I was a full time clinician for ten years before I decided to pursue a doctorate.  This professional experience forever influenced the manner in which I conceptualize courses, develop learning objectives, and evaluate the impact of higher education on student self-efficacy in clinical settings.  The interplay between the acquisition of knowledge and the practical application of that knowledge in the workplace is critical to preparing students for real world settings.   In my teaching I emphasize the link between research, practice and training.  Courses, including assignments, need to adapt to emerging knowledge so that the students of today are prepared to improve upon the work of their predecessors.  For me, teaching is an investment in a better future.
Edit Profile