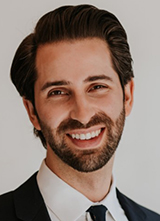 I have always been interested in the thoughts and feelings that drive us. This led me to major in Psychological and Brain Sciences at Johns Hopkins University and to later enroll in the psychiatry residency training program at Washington University in St. Louis. Since completing training, I have had an excellent experience working at UW/Harborview's emergency and inpatient psychiatry services. My teaching interests include the psychiatric interview, documentation, and fundamentals of clinical decision-making. Clinically, I enjoy taking a holistic approach to care, utilizing interventions across behavioral changes, pharmacology, and psychotherapy.
Education
Psychiatry Residency at Washington University in St. Louis, 2019
MD, SUNY Downstate College of Medicine, Brooklyn, NY, 2015
BA, Psychological and Brain Sciences, The Johns Hopkins University, Baltimore, MD, 2010

Recent Publications
---
Elevated cerebrospinal fluid 5-hydroxyindoleacetic acid in macaques following early life stress and inverse association with hippocampal volume: preliminary implications for serotonin-related function in mood and anxiety disorders.
(2014)
Front Behav Neurosci
8()
: 440
Coplan JD, Fulton SL, Reiner W, Jackowski A, Panthangi V, Perera TD, Gorman JM, Huang YY, Tang CY, Hof PR, Kaffman A, Dwork AJ, Mathew SJ, Kaufman J, Mann JJ
---
Show complete publication list »
Edit Profile