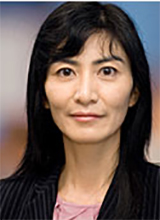 Personal Statement
I am board certified in general psychiatry and in child and adolescent psychiatry and am an Associate Professor of Psychiatry, University of Washington. I am also an attending psychiatrist at Seattle Children's Hospital and University of Washington Medical Center Adult Autism Clinic, and serve as Medical Director at Seattle Children's Autism Center.
My clinical and research interest is focused on autism spectrum disorder (ASD) and Prader-Willi syndrome (PWS). My research interest is to identify genetic mechanisms for neurobehavioral challenges in individuals with developmental disorders, with special focus on the chromosome 15q11-q13 region. This particular chromosomal region contains several imprinting genes that express differently based on their parental origin. The abnormality of this region is the major cause for Prader-Willi (PWS) and Angelman syndromes. This region has been also implicated in the pathogenesis of Autism Spectrum Disorder (ASD). My lab is also working on pharmacogenomics for variable individual responses to psychotropics.
Our main strategy is massively parallel sequencing of the region of interest. We utilize the next generation sequencing platform to survey genomic differences across individuals with PWS or ASD. We are currently developing expertise in total RNA sequencing as well as DNA methylation sequencing to determine the effects of psychotropic medications and also to survey the effects of changes in the 15q11-q13 region in the whole genome.
Education
University of Florida Master, 2010
University of Illinois at Chicago Fellowship, 2006
University of Chicago Fellowship, 2005
University of Chicago Residency, 2004
Seoul National Univ., Dentistry Medical education, 1993

Department Affiliations
Other Affiliations
Autism Center
Training Clinic
Edit Profile