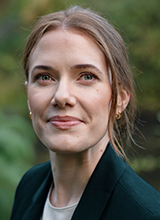 Sheena Friesen, PhD (she/her), is the attending psychologist for the Child Program on the inpatient Psychiatry and Behavioral Medicine Unit at Seattle Children's Hospital and Acting Assistant Professor in the Department of Psychiatry and Behavioral Sciences at the University of Washington. She has clinical expertise in disruptive behavior disorders, comprehensive assessment, Dialectical Behavior Therapy, Exposure Therapies, Parent Training, and Trauma-Focused Cognitive Behavioral Therapy.
Dr. Friesen's research interests broadly focus on advancing knowledge of least restrictive interventions in acute and complex care contexts, trauma-informed care, and interventions designed to address children's disruptive behavior problems. She has collaborated on and co-led efforts to design and implement a multi-tiered, Modified Positive Behavioral Interventions and Supports (M-PBIS) model of care aimed at increasing positive behavior interventions, reducing restraint and PRN use, and ameliorating racial gaps in care delivery.
Dr. Friesen received her Ph.D. in School Psychology from the University of Washington in Seattle, WA. She completed her pre-doctoral internship training at Johns Hopkins School of Medicine and Kennedy Krieger Institute and went on to complete her postdoctoral fellowship in acute care and clinical psychology at Seattle Children's Hospital.
Education
Postdoctoral Fellowship - Seattle Children's Hospital, Seattle, WA, 2022-2023
Predoctoral Internship - Johns Hopkins School of Medicine, Baltimore, MD, 2021-2022
Ph.D. - University of Washington, Seattle, WA, 2016-2022
Ed.S. - University of Washington, Seattle, WA, 2016-2019
B.A. - Lewis & Clark College, Portland, OR, 2008-2012

Department Affiliations
Centers/Programs
Training Programs
Psychology Internship Program
Edit Profile