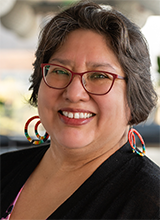 Myra Parker, JD, MPH, PhD
Personal Statement
​Myra Parker, JD, PhD is an Associate Professor of Psychiatry and Behavioral Sciences, and Director of Seven Directions: A Center for Indigenous Public Health, based within the Center for the Study of Health and Risk Behaviors, University of Washington. She received her doctorate in Health Services at UW School of Public Health, and has been a member of the faculty since 2014.
Dr. Parker's research and clinical interests include: (1) cultural adaptation of alcohol and drug interventions among American Indians and Alaska Natives (with a particular focus on tribal college drinking harm reduction), (2) development and testing of parenting interventions to support early childhood development in American Indian and Alaska Native communities, (3) co-morbidity of substance use with depression, suicide, trauma, and PTSD, (4) research capacity development, including ethical aspects of research, for tribal and urban Indian communities; and, (5) dissemination and translation of evidence-based prevention and intervention approaches at the individual, institutional, and community level, including policy development. She has worked with tribal and urban Indian communities across the United States on these topics.
Education
PhD, Health Services, University of Washington, 2003-2010
JD, Federal Indian Law, University of Arizona, 1998-2001
MPH, Health Administration & Policy, University of Arizona, 1999-2002
BA, Human Biology, Stanford University, 1991-1995

Department Affiliations
Other Affiliations
Adjunct Faculty, American Indian Studies, College of Arts and Sciences, University of Washington
Adjunct Faculty, Health Services, School of Public Health, University of Washington
Teaching Philosophy
My goals as a mentor are to support student development through critical dialogue and examination of mainstream research methodology through the lens of Community-based Participatory Research. By reviewing our assumptions inherent in standard research practices, we help students identify meaningful approaches to modify research techniques and tailor them to communities in need of research capacity development.
Edit Profile