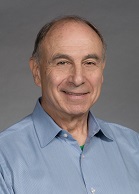 Personal Statement
I and my team of collaborators investigate the CNS noradrenergic system and the alpha-1 adrenoreceptor (AR) specifically as potential therapeutic targets for treatment of behavioral disorders with hyperarousal as a major component of their clinical presentations. These disorders include PTSD, alcohol use disorder, agitation/aggression in dementia and (unexpectedly) post-mild traumatic brain injury migraine-like headaches.
1. PTSD: Based on our clinical observation and data from other laboratories suggesting increased CNS noradrenergic activity in PTSD, we (Drs. Peskind, Petrie, McFall and Army colleagues) demonstrated in three RCTs in combat veterans and active duty soldiers that the CNS active alpha-1 AR antagonist prazosin is effective for PTSD sleep disruption, trauma nightmares, daytime hyperarousal symptoms and global clinical status. Based on these studies, approximately 100,000 military veterans across the US were prescribed prazosin for PTSD in 2013.
2. Alcohol Use Disorder: Based (again) on clinical observation of alcoholic combat veterans achieving long-term abstinence with prazosin treatment, we have demonstrated (with Dr. Rasmussen) in rodent studies that prazosin reduces alcohol consumption in genetically "alcoholic" P rats, and this effect is greater when prazosin is combined with propranolol or naltrexone; and in two RCTs (Simpson, Saxon) that prazosin effectively reduces alcohol consumption in persons with alcohol dependence with or without comorbid PTSD.
3. Dementia Agitation/Aggression: Although locus ceruleus (LC) neurons are lost in Alzheimer's disease (AD), we demonstrated normal or increased norepinephrine in CSF in AD (Peskind) and increased tyrosine hydroxylase mRNA/LC neuron in AD postmortem tissue and increased alpha-1 AR density in LC projection areas (Szot) in AD. In a pilot RCT (Peskind, Wang) prazosin was effective for agitation/aggression in AD outpatients and nursing home residents.
Department Affiliations
Centers/Programs
Training Programs
Edit Profile