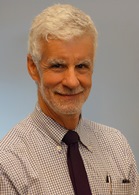 Personal Statement
My clinical service and research focuses on the interaction of mental and physical illness, especially in patients with chronic pain or heart disease. Much of my research in the past decade has focused on the risks of treating chronic pain with opioids. I have developed educational programs and outcome tracking tools to assist with opioid treatment of chronic pain. I am interested in expanding the role for the patient in the care of chronic illness and am completing a book on this topic.​
Education
Vanderbilt Univ. Sch. of Medicine Medical education, 1984
Univ. of Missouri Columbia Internship, Family Medicine
UW - Dept. of Psychiatry & Behavioral Sciences Residency, Psychiatry

Department Affiliations
Centers/Programs
Training Programs
Teaching Philosophy
​I like to have trainees manage patients under my supervision. Trainees need real responsibility to learn and develop management skills.
In didactic sessions, I strive for interaction between myself and trainees. I generally teach in a seminar format centered around case presentations. I expect all trainees to contribute to the discussion and the learning of others.
Edit Profile