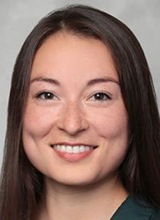 Kimiko "Koko" Urata, MD, MS, was a member of the inaugural psychiatry residency class at University of Washington, Montana Track, located in Billings, Montana. Her interests lie in rural underserved mental health, team-based care, and education.
Growing up in Southeast Alaska, she developed a passion for community, team-based care, and rural mental health. She received her medical degree at University of Washington, Alaska WWAMI (Washington, Wyoming, Alaska, Montana, Idaho). She was selected for the WWAMI Rural Integrated Training Experience in Alaska andher interest in rural mental health began. During medical school, she earned the University of Washington School of Medicine Service Award based on her dedication to community service and the Underserved Pathway Certificate for her commitment in caring for underserved and vulnerable populations.
Dr. Urata was drawn to integrated care during residency due to the interdisciplinary, team-based approach toimprove access to mental health care. She hopes to build upon her knowledge of psychiatry and gainexpertise in quality improvement, systems of care, and population-based medicine. Clinically, she also has interests in perinatal care, psychotherapy, and palliative care. She is excited to be a part of the Population Mental Health and Integrated Care Fellowship and aims to expand access to mental health to rural and underserved communities in Alaska.
Department Affiliations
Edit Profile