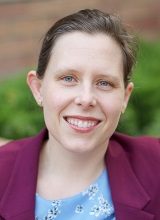 Personal Statement
I am a board certified psychiatrist and work at SCCA and at UW Medical Center. I am an Assistant Professor of Psychiatry and Behavioral Sciences at the University of Washington.  I obtained a fellowship in consultation-liaison psychiatry, a specialty that focuses on providing psychiatric care for people with complex medical conditions.  I work with cancer patients and patients who are admitted to the medical wards at UWMC Montlake.  I love my work.  Being ill is a vulnerable time and my goal is to ease suffering and provide a sense of connection and understanding for all I work with.  I believe in working collaboratively with patients and families. We work together to identify what the goals of treatment are. I have expertise in diagnosis, psychopharmacology and psychotherapy and adapt my recommendations to best serve the goals of the person before me.
Education
UW - Dept. of Psychiatry & Behavioral Sciences Fellowship, 2017, Consultation Liaison Psychiatry
UW - Dept. of Psychiatry & Behavioral Sciences Residency, 2016, Psychiatry
Univ. of Oklahoma Health Sciences Center Doctor of Medicine, 2012
Univ. of Oklahoma Health Sciences Center Masters of Public Health, 2010

Department Affiliations
Recent Publications
---
Patient-Reported Neuropsychiatric Outcomes of Long-Term Survivors after Chimeric Antigen Receptor T Cell Therapy.
(2020 Jan)
Biol Blood Marrow Transplant
26(1)
: 34-43
Ruark J, Mullane E, Cleary N, Cordeiro A, Bezerra ED, Wu V, Voutsinas J, Shaw BE, Flynn KE, Lee SJ, Turtle CJ, Maloney DG, Fann JR, Bar M
---
Show complete publication list »
Edit Profile