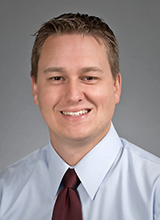 I am grateful to be a lifelong University of Washington Husky. Training at the UW has afforded me the chance to learn from world class educators, clinicians, and researchers. I've learned from excellent mentorship that focusing on what you are passionate about is critical to professional satisfaction and success. For me, working with individuals experiencing co-occurring mental health and substance use disorders reminds me of the amazing resiliency that lies within us all. As a clinician educator at the VA Puget Sound, I am humbled at the trust both patients and trainees place in me everyday. It is a privilege to be part of this amazing place.
Department Affiliations
Teaching Philosophy
"What do you enjoy most about your job?" This is maybe the most common question residents ask me in supervision when contemplating their own career options. Though the answer used to be "a lot of things," over time it has become a simpler answer, "teaching."
I believe that each trainee has a unique set of gifts. It is the job of the clinician educator to help that trainee identify and cultivate those qualities while providing the guidance, encouragement, and instruction for them to reach their highest potential as a physician. Finding these gifts and providing that direction in every learner I work with is my passion and ultimately why I love what I do at the University of Washington.
Edit Profile