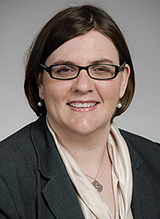 Personal Statement
I am a board-certified psychiatrist at UW Medical Center and UW Neighborhood Clinics and a UW lecturer in Family Medicine.
I specialize in the collaborative care model, and strive to create active partnerships with her patients to achieve the best possible outcomes.
I earned my D.O. at Western University of Health Sciences, Pomona, California. I am a member of the UW Medicine Psychiatry Consultation and Telepsychiatry Program and am part of the core faculty for the UW Integrated Care Training Program. My clinical and research interests include neuropsychiatry, medical ethics, population health and medical education. 
Education
Psychosomatic Medicine Fellowship, Icahn School of Medicine at Mount Sinai Beth Israel, 2016
Psychiatry, Univ. of New Mexico Hospital Residency, 2015
Psychiatry Internship, Univ. of New Mexico Hospital, 2012
Medical Education, Western University of Health Sciences, 2011

Department Affiliations
Centers/Programs
Training Programs
Scholarly Expertise
Clinical Expertise