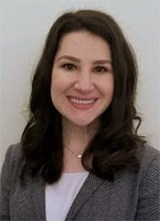 Personal Statement
Dr. Cadigan is an Assistant Professor in the Department of Psychiatry and Behavioral Sciences. She received her Ph.D. from the University of Missouri in 2016 and then completed clinical psychology internship and fellowship at the University of Washington Medical Center. Dr. Cadigan's program of research focuses on adolescent and young adult health and wellbeing, 
with an emphasis on the etiology, prevention, and intervention of high-risk alcohol and cannabis use and co-occurring mental health symptoms.
Her work aims to develop, test, and disseminate innovative prevention and intervention programs to improve young adult mental health and reduce high-risk alcohol and cannabis use. This work has included developing and testing programs for young adults who use substances to cope with negative affect and loneliness. Her work has also examined etiological factors related to co-occurring mental health and substance use, including the effects of loneliness, depression, coping motives, social support, solitary substance use, and factors associated with improving access to mental health care. 
Dr. Cadigan is a licensed psychologist and sees patients at the University of Washington Medical Center- Outpatient Psychiatry Clinic. She is involved in training psychology and psychiatry residents in Cognitive Behavioral Therapy approaches.
Department Affiliations
Edit Profile