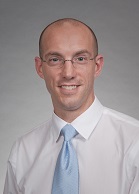 Personal Statement
I am a board-certified Psychiatrist at Harborview and UW Medicine and a UW Associate Professor of Psychiatry and Behavioral Sciences. I enjoy acting as a consultant to my patients in helping them achieve their healthcare and life goals. My clinical interests include medical student and resident education, medical co-morbidities of psychiatric patients and evidenced-based medicine.  I practice, teach, and supervise in Harborview's acute inpatient psychiatric units as an Attending Physician and Medical Director of Inpatient Psychiatry.
Education
Psychiatry, 2006, American Board of Psychiatry & Neurology
UW - Dept. of Psychiatry & Behavioral Sciences Residency, 2004, Psychiatry
UW - Dept. of Psychiatry & Behavioral Sciences Internship, 2001, Psychiatry
University of Washington, School of Medicine Medical education, 2000

Teaching Philosophy
I like to teach trainees in much the same way as I work with patients.  I prefer to be genuine and treat others as fellow human beings deserving respect.  I role-play patient interactions regularly.  I focus on evidence-based strategies for patient interactions just as much as for labs and medications.
Edit Profile