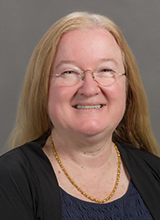 Jacqueline Hobbs, MD, PhD
I recently joined the faculty at UW and am the new program director for the general residency program. I am excited to be here! I have been working in graduate medical education and have been a program director for over 14 years. Although my major focus is graduate medical education, I am also passionate about patient safety, quality improvement, and healthcare risk management. Additionally, I have a background in basic research with expertise in virology, microbiology, and immunology.
Education
Psychiatry Residency, University of Florida College of Medicine, 2004
MD/PhD, Indiana University School of Medicine, 2001
Post-doctoral Fellowship, Indiana University School of Medicine, 1999-2000
BA, DePauw University, 1993

Department Affiliations
Scholarly Expertise
Graduate Medical Education
Patient Safety and Quality Improvement
Teaching Philosophy
My teaching philosophy is to meet each learner where they are and never give up on them. I also believe that it's important to break down teaching topics to their foundations (i.e. start from basics) and build up from there. Clinicians are very busy and must be able to attain learning at rapid speed. For graduate and post-graduate medical education, I believe that it is important to keep learning lessons relevant, efficient, and fun (REF).
Edit Profile