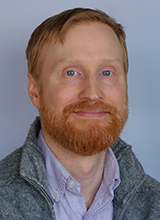 Personal Statement
My research interests cover two main areas:
1) development and use of novel radioligands for positron emis-sion tomography (PET) in CNS disorders
2) cannabinoid pharmacology, and cannabis use disorder and comorbid neuropsychiatric disorders
My VA Career Development Award (VA equivalent of an NIH K-award) focuses on the translational development of imaging neu-roinflammation with PET following repetitive blast mild traumatic brain injury (mTBI). In collaboration with David Cook's lab, imag-ing neuroinflammation in a mouse model of repetitive mTBI pro-vides an opportunity to compare imaging outcomes directly with histopathology in brain tissue, which is not possible in humans. In collaboration with Elaine Peskind, imaging neuroinflammation in Veterans with mTBI and persistent post-concussive symptoms provides neuroanatomical specificity to ongoing neuroinflamma-tion, which to date has been informed using cerebrospinal fluid and serum biomarkers. To accomplish this, my laboratory evalu-ates and develops established and novel PET radioligands for bi-omarkers of neuroinflammation. Additionally, I am interested in developing novel radioligands for druggable targets for which there are no current, suitable radlioligands available. I have sever-al ongoing collaborations with other investigators at UW and VA in which I provide support with PET imaging.
As a clinician and researcher, I am interested in how patients use cannabis for perceived therapeutic effect, and the risks and adverse outcomes resulting from substantial or chronic cannabis use. These clinical patterns can now be placed into context with a better understanding of the endocannabinoid system (ECS), which provide opportunity for more selective and safer therapeutic drug development. Due in part to the recentness of discovery of the ECS, one of my goals is to educate clinical providers on the pre-clinical and evidenced based research conducted to date on can-nabis use and the ECS so they are better informed when discuss-ing cannabis use with patients, and better prepared for under-standing mechanisms of anticipated ECS-based medications cur-rently under development. A second goal is to conduct research on cannabis use disorder and comorbid conditions, and identifica-tion of therapies that might better address a patient's desired outcome from cannabis use, thereby reducing the likelihood of its associated risks.
Department Affiliations