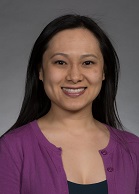 Personal Statement
My research focuses on strategies to improve pediatric mental health care quality, such as increasing measurement-based care–the use of patient/caregiver reported data to inform clinical-decision making. I also study the impact of quality improvement interventions on pediatric mental health service disparities with the goal of developing interventions to prevent or reduce such disparities and improving mental health care quality for all youths and families.
My clinical expertise includes Dialectical Behavior Therapy and Cognitive Behavior Therapy for teens and families to address a variety of mood and anxiety disorders as well as behavior problems and parent-child conflict. I provide parent training and consultation for managing young children's anxiety and behavior problems. I am fluent in Mandarin Chinese.
Education
Clinical Child/Pediatric Psychology, Seattle Children's Hospital / University of Washington, 2011-2013
Clinical Child Psychology, University of Washington, Seattle, WA , 2010-2011
PhD, Psychology, Arizona State University, Tempe, AZ, 2007-2011
MA, Psychology, Arizona State University, Tempe, AZ, 2004-2007
BA, Psychology, Claremont MacKenna College, Claremont, CA, 2000-2004

Department Affiliations
Other Affiliations
Mood and Anxiety Program – Seattle Children's Hospital
Teaching Philosophy
​I value active and experiential learning strategies and like to teach by modeling and demonstration. I aim to cultivate a value for life long learning and a non-defensive, non-judgmental, self-compassionate, curious learning style.
Edit Profile