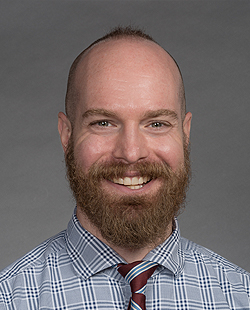 Personal Statement
The goal of my research is to investigate the neural circuitry of emotional and memory processing through the implementation of techniques in mouse behavioral genetics. I have over 8 years of experience in basic science research with a significant portion of that time dedicated to the use of mouse models of neurodevelopmental and psychiatric disorders. My training began as a research associate at the Medical College of Wisconsin, Department of Biochemistry, investigating small molecule inhibitors of aldose reductase, an enzyme implicated in the pathophysiology of common sequelae of diabetes mellitus, such as nephropathy, retinopathy, and neuropathy. There, I was trained in molecular cloning, protein chemistry, protein crystal production, and fluorometric measurement of protein kinetics.
As a graduate student in the Medical Scientist Training Program at the University of Minnesota School of Medicine, Department of Neuroscience, I expanded my repertoire to include a foundation in mouse genetics, neural development, and mouse behavior by investigating the role of iron in developing pyramidal neurons in the hippocampus. I also received a training grant at that time that allowed me to receive cross-training in child psychological development. I was also awarded an individual Kirschstein-NRSA (F31) from the NINDS for my research in Michael Georgieff's laboratory. I utilized and implemented numerous techniques in protein biochemistry, in vivo NMR spectroscopy, gene targeting, microarray, immunohistochemistry, molecular cloning, cell culture, and different versions of the Morris Water Maze. I developed two mouse models of nonanemic neuron specific iron deficiency: 1) a conditional knockout of the Slc11a2 gene, encoding the iron transporter DMT-1 in forebrain neurons, including hippocampal pyramidal neurons, and 2) a transgenic mouse with a reversibly-inducible dominant negative (nonfunctional) form of the transferrin receptor expressed only in hippocampal pyramidal neurons.
During my training as a resident at the University of Washington, Department of Psychiatry and Behavioral Sciences, I expanded my knowledge of neuropsychiatric disorders by directly evaluating and treating patients with complex neuropsychiatric disorders including schizophrenia, bipolar disorder, autism, major depression, substance abuse disorders, and personality disorders. I learned numerous pharmacological and psychotherapeutic interventions for these disorders, and also participated in the internally funded Neuroscience Research Track. Currently, I am an Acting Assistant Professor at the University of Washington and am funded by the NIMH with a K08 award. In this position, I am investigating interactions between dopamine and the cerebellum, in the context of dopamine neuron firing patterns in response to salient sensory stimuli and the contribution of cerebellum in emotional processing with the intent of identifying putative physiological underpinnings of psychiatric disorders associated with aberrant salience assignment and cerebellar pathology, such as schizophrenia and autism. My research is mentored by Larry Zweifel, PhD. To achieve these goals, my research utilizes mouse behavior, in vivo electrophysiological recordings, gene targeting, viral vector production, site-specific intracranial viral vector injection, and protein chemistry.
Education
UW - Dept. of Psychiatry & Behavioral Sciences Residency, 2014, Psychiatry
University of Minnesota School of Medicine Medical education, 2010
University of Minnesota School of Medicine Ph.D, 2008

Department Affiliations
Edit Profile