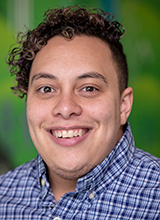 Dr. Connor Gallik, PhD, is the attending psychologist for the Adolescent Program on the Psychiatry and Behavioral Medicine Unit at Seattle Children's Hospital and Acting Assistant Professor in the Department of Psychiatry and Behavioral Sciences at University of Washington.
Prior to joining the staff and faculty at Seattle Children's/UW, Dr. Gallik completed his graduate education at the University of Connecticut with an emphasis in child and adolescent clinical psychology. He completed his clinical internship at Pacific University's Psychology and Comprehensive Health Clinic and went on to complete a postdoctoral fellowship in clinical psychology at Seattle Children's Hospital with an emphasis in DBT and inpatient care.
His research focuses on understanding factors related to the mental health and wellbeing of transgender and gender diverse (TGD) TGD youth and evidence-based practice on inpatient units. Clinically, he is interested in working with children, adolescents, and their families, with a focus on TGD youth. Dr. Gallik also provides training in TGD affirming care for mental health and medical professionals and speaks to community audiences about supporting transgender youth.
Education
Postdoctoral Fellowship, Seattle Children's Hospital, Seattle, WA, 2021-2022
PhD, Clinical Psychology, University of Connecticut, Storrs, CT, 2015-2021
MS, Clinical Psychology, University of Connecticut, Storrs, CT, 2015-2019
BA, Psychology, Boston University, Boston MA, 2011-2015

Department Affiliations
Centers/Programs
Training Programs
Other Affiliations
Psychiatry and Behavioral Medicine Unit (PBMU) – Seattle Children's Hospital
Scholarly Expertise
Transgender and Gender Diverse Youth
Edit Profile