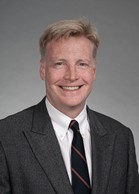 Personal Statement
I currently serve as the Director for the PATH (Promoting Access to Telemental Health) Service at VA Puget Sound Health Care System. This program seeks to unite the emerging tele-technologies (Clinical Video, Web-based, Phone-based, Phone Apps) into a unified clinical, educational, and outcome-based program. I initiated and supervise one of the first available Tele-Mental Health psychiatry resident rotations. Prior to this position, I served as the VA Director of the Primary Care Mental Health Integration Service, the VA Director of the Deployment Health Service, as well as the Acting Chief of Psychiatry for VA Puget Sound. I continue to serve on multiple national and regional committees related to Primary Care-Mental Health Integration that focus on education, implementation, and research in this area.
I have been the Principle Investigator and Co-Investigator on multiple research projects related to integrated mental health and primary care and remains active on several ongoing research projects in this area. I recently joined the VA Office of Academic Affairs Centers of Excellence in Primary Care Education where I have been asked to develop and implement a national VA mental health in primary care curriculum for inter-professional trainee development. I remain active in the United States Navy Reserve and was recently promoted to the rank of Captain. I am mobilized to support Operation Iraqi Freedom where I served as the Mental Health Department Head for US Military Kuwait. My team implemented many changes to the way mental health is delivered in a combat zone. This work led to me being awarded the Navy Commendation Medal.
Department Affiliations
Centers/Programs
Training Programs
Teaching Philosophy
​My role as a trainee supervisor is taken very seriously.  I try to embrace a training philosophy that incorporates mutliple approaches to learning to include: traditional didactic, experiential, and reflective learning.  I work to help the trainee approach their educational goals in such a way that they not only learn core material, but also develop confidence in their ability to become a professional who can deliver expert-level care.
Edit Profile