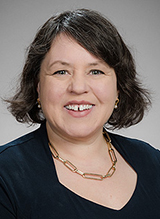 Personal Statement
I am a national expert on collaborative care and specifically, on training teams to implement and deliver mental health treatment in primary care settings. My passion for translating complex research ideas into practical real-world applications began when I received my MD and PhD in Anatomy and Neurobiology as part of the Medical Scientist Training Program at the University of California at Irvine. I am currently is a Professor in the Department of Psychiatry and Behavioral Sciences at the University of Washington where I have developed additional expertise in suicide prevention training, mental health workforce development, adult learning best practices, and mentorship. I am the Director of the UW Psychiatry Resident Training Program, Co-Director of the AIMS Center (Advancing Integrated Mental Health Solutions) and Director of the UW Integrated Care Training Program for residents and fellows.
Department Affiliations
Other Affiliations
Teaching Philosophy
I am passionate about teaching and find that my work as a clinician teacher allows me to integrate education into all facets of my work, As a clinician, I am able to partner with my patients to help them make decision about their health. In my role as a psychiatric consultant in a Collaborative Care team, I am able to teach and learn from my interdisciplinary colleagues as we work to deliver mental health in primary care settings. Working as an academic psychiatrist, I have the opportunity to mentor residents as well as share in peer learning. In all of these roles, I believe the ideas that the learner should be an active contributor to the learning process, that learning should focus on solving real problems and that evaluation facilitates continuous improvement in my educational approach to guide my work as an educator.
Edit Profile