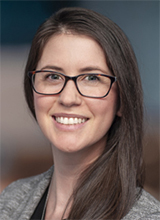 Alysha Thompson, PhD is the Clinical Director and attending psychologist on the Psychiatry and Behavioral Medicine Unit at Seattle Children's Hospital and Associate Professor in the Department of Psychiatry and Behavioral Sciences at University of Washington. Prior to joining the staff and faculty at Seattle Children's/UW, she was a staff psychologist on the Adolescent Inpatient Unit at Bradley Hospital and Clinical Assistant Professor in the Department of Psychiatry and Human Behavior at Brown University. She is an active participant in training future psychiatrists and psychologists and currently serves as Chair-Elect of the Acute, Intensive, and Residential Services Special Interest Group of Division 53 of the American Psychological Association, a national group of psychologists.
Dr. Thompson has authored multiple publications regarding inpatient psychiatric treatment for youth and has forged collaborations with psychiatrists and psychologists working in inpatient psychiatry and acute care around the country. In addition, she is actively engaged in advocacy efforts regarding improvement the mental health care system for youth. She is passionate about providing quality services to youth experiencing severe mental health crises and has specific areas of expertise in working with youth with trauma histories and suicidality.
Dr. Thompson completed her graduate education at Suffolk University in Boston in clinical psychology with an emphasis in child and adolescent clinical psychology. She completed residency in pediatric psychology at Rush University Medical Center in Chicago and went on to complete a fellowship in clinical psychology with an emphasis in trauma in children and adolescents at the Trauma Center at Justice Resource Institute.
Education
Child and Adolescent Trauma, The Trauma Center at Justice Resource Institute, Brookline, MA, 2013-2014
Pediatric Psychology, Rush University Medical Center, Chicago, IL , 2012-2013
PhD, Clinical Psychology, Suffolk University, Boston, MA, 2009-2013
MA, Clinical Psychology, Suffolk University, Boston, MA, 2007-2009
BA, Psychology, Loyola Marymount University, Los Angeles, CA, 2003-2006

Department Affiliations
Centers/Programs
Training Programs
Other Affiliations
Psychiatry and Behavioral Medicine Unit (PBMU) – Seattle Children's Hospital
Edit Profile