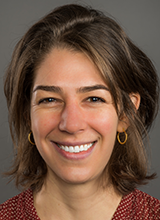 I am a child and adolescent psychiatrist with interests in medical education, infant and early childhood mental health, and psychotherapy. I direct psychotherapy training for child and adolescent psychiatry (CAP) fellows, co-lead the CAP fellows' didactic curriculum, and coordinate the CAP training experiences of general psychiatry residents.
My clinical work includes treatment in the outpatient setting for young children through adolescents, working closely with their families. In my own work, and in teaching trainees, I am passionate about psychiatrists supporting families comprehensively. I seek to use not only medications (if appropriate) but also behavioral/psychotherapeutic approaches.
My research focuses on expanding behavioral treatments for young children by involving peer supports—caregivers who have previously participated in the programs for their own children—as members of the care team. I am especially interested in this increasing access and fit of the treatment for underserved communities, and currently work in partnership with the Yakima Valley Farm Workers Clinic.
Education
Child and Adolescent Psychiatry Fellowship, University of Washington, 2019-2021
General Psychiatry Residency, University of Washington, 2015-2019
MD, University of Michigan, 2011-2015

Department Affiliations
Centers/Programs
Training Programs
Psychiatry Residency Training Program
Other Affiliations
Early Childhood Clinic – Seattle Children's Hospital
Training Clinic – Seattle Children's Hospital
American Academy of Child and Adolescent Psychiatry Infant and Preschool Committee
Washington State Psychiatric Association- Secretary/Treasurer
Edit Profile